Have An Emergency? Call our 24Hr Emergency Service

Tree Removal Services
Had a tree fall during the last storm? Get it taken care of with our affordable CT tree removal services. If you have fallen trees that need to be cleaned up, our team can take care of them. We use industry best practices and state-of-the-art equipment to remove trees safely and effectively. No matter the size or location of the tree, you can trust us to get the job done right. Learn more about our CT tree removal services below.

Tree Removal Crane Services
When considering a tree service in CT, choose Spear Bro's Tree Service. Our crane removal is the most effective option for removing large trees near buildings and other structures. Using a crane to cut up and remove a tree reduces job time and the impact it has on surrounding areas. Our team is experienced with crane tree removal in environments that demand precision and skill. We make sure that the entire process is both efficient and safe.

Emergency Tree Services
Tree emergencies can happen at any hour and are often unanticipated. When they arise, you can trust our 24-hour emergency services to handle the job quickly and accurately. Whether you're looking for a credible tree removal service or emergency tree services in Connecticut, we provide the right solutions and professional services at affordable pricing. Learn more about our emergency tree removal services below.

Insurance Claim Tree Removal
Tree damage can cause serious harm to your property if left unhandled. It is crucial to take the proper steps to assess the situation and file an insurance claim as needed. Our specialists will provide a free inspection and can help you file an insurance claim if needed. We'll help you with all of the paperwork and ensure that repairs are taken care of promptly. Click below to learn more.

Wood Chipping Services
Are you looking for tree services in Connecticut that provide removal and wood chipping? Spear Bro's Tree Service offers on-site chipping services for residential and commercial properties throughout CT. Whether you need us to handle one tree or multiple, we have the latest tools and expertise to get it done. We can chip any of the trees we removed for you allowing you to repurpose and use the chips.

Insurance Claim Assistance & Repair
As one of the premier tree specialists in CT, our customer service is second to none. Need help filing a claim with insurance? We can assist and offer guidance on how the process works. Did the fallen tree damage your house or property? Let us know! Our sister company, AZ Roofing provides residential and commercial remodeling to help with all of your roofing and repair needs. Call today!
Let Us Help You With Your Tree Removal Before There's An Emergency
Tree removal can be dangerous work that requires special training and proper safety equipment. Instead of doing it on your own, allow the professionals to help. Here's what sets us apart:
top rated
Tree Service CT
Our professionals will come out and inspect the area with the latest technology to ensure removal goes smoothly and protect your home and property. If you have damaged or downed trees that need to be removed, give us a call right away. If the tree has not fallen yet, you want to have it safely removed before it falls and causes more damage.
Locally owned and operated, Spear Bro's Tree Service has years of experience in the industry. We specialize in the implementation of safe, efficient methods for removing unwanted trees. As tree removal experts, our professionals utilize only the highest quality trucks and machinery to perform the job without damaging your property or its surroundings. We're dedicated to providing you with superior solutions that are safe, cost-effective, and efficient.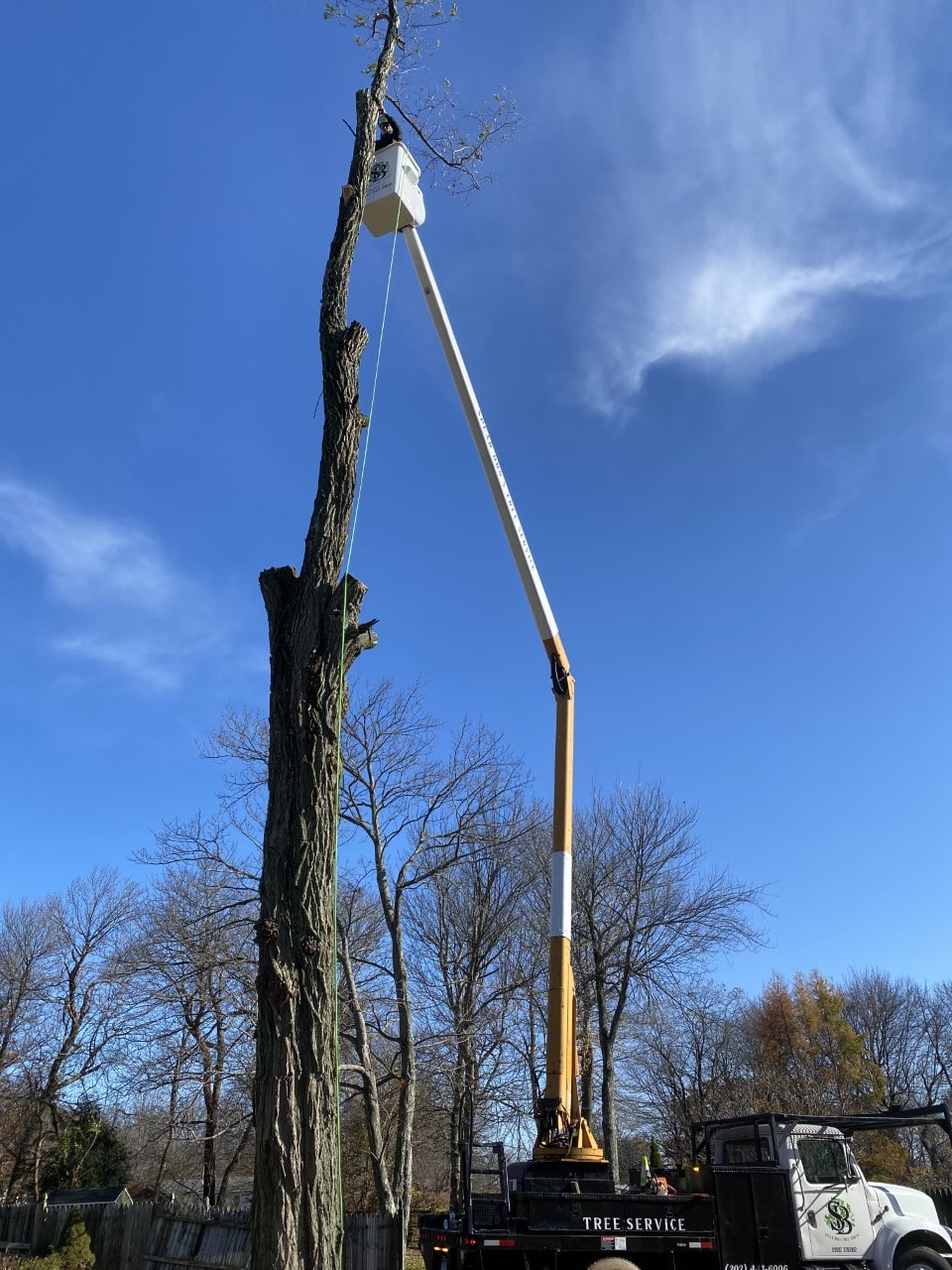 Connecticut's #1 Choice for Tree Removal
We are Connecticut's premier tree care company. Our work is unparalleled in the industry due to our high level of experience. We offer a number of services to residential and commercial customers including:
Tree removal
Insurance claim tree removal
Wood chipping services
Emergency tree service
Tree removal crane services
Storm damage clearing
Tree structure evaluation
And more!
When it comes to large overhanging trees, you want to hire a professional. Most tree services aren't safe for the average person to attempt, and we recommend hiring a tree company. Turn to a Connecticut tree care provider that has large scale equipment, such as us.
Experience Really Is Everything!
Spear Bro's Tree Service has become one of the most trusted names in the CT tree service and tree care industry. By always looking for new safe and efficient equipment to serve the ever-changing needs of our customers, we have built an excellent reputation for providing high-quality tree services throughout Connecticut. The following are some reasons why we've earned our good reputation.
Outstanding customer service
Competitive pricing
Transparent communication
Strict adherence to industry standard
Regular safety training program
Latest technology equipment
Local Connecticut Tree Service
Conveniently located in Connecticut and covering the entire state, we have the most experienced tree specialists to help you with your tree care needs.  Whether you're looking for tree removal in Bristol CT, tree removal in Southington CT, tree removal in Meriden CT or Plymouth tree services, our local staff will help get the job done faster with affordable rates. Our service coverage includes these areas and counties:
Wolcott, CT
Kent, CT
Plymouth, CT
Bristol, CT
Southington, CT
Meriden, CT
Cheshire, CT
Torrington, CT
And all of Hartford County,
New Haven County
and Litchfield County.
READ WHAT OUR HAPPY CUSTOMERS ARE SAYING
We had 3 trees come down in the last storm, 1 of which fell on my house. Spear Bro's Tree Service came out right away and removed everything without further damaging anything. Can't recommend them enough.
The crew that showed up was amazing. We had a pretty tricky job but they handled it and left the yard very clean! They even took our bird house off as to not damage it. We were really impressed. Thanks again
Spear Bro's are the truly the best! in every way. They're safe, efficient and professional. Polite and accommodating. I have used them for multiple large tree jobs and was very happy with their work.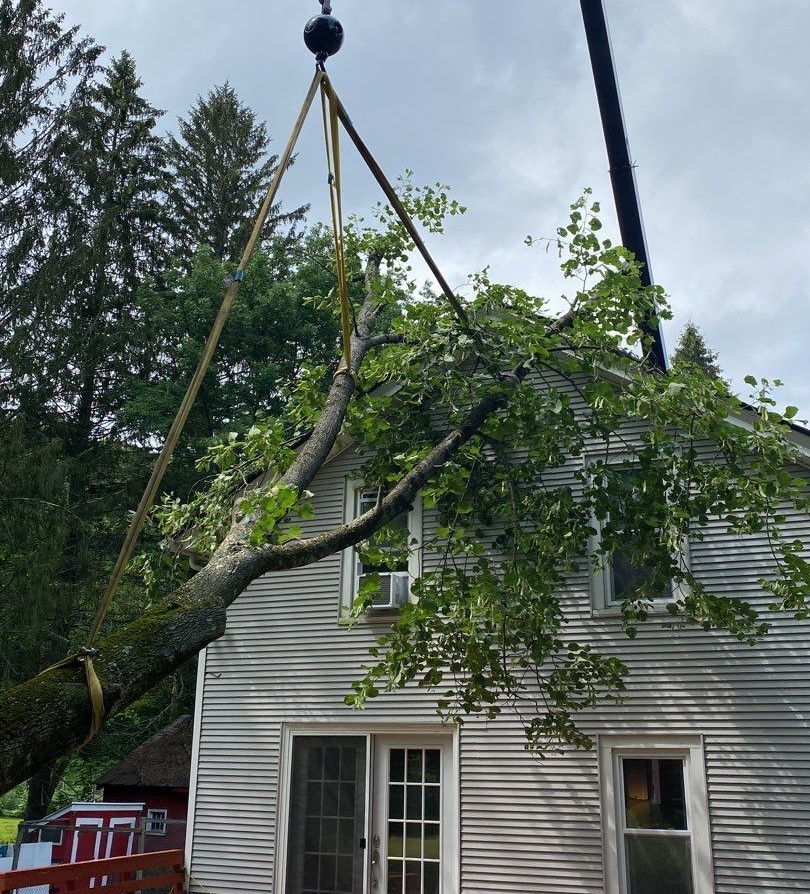 Spear Bro's Tree Service has become the most trusted tree care company in CT. Over the years, we've built our reputation on the integrity of our work.
We have proudly provided the highest quality tree care services to homeowners, commercial businesses, HOA's and property managers around Connecticut. We look forward to letting you experience the difference of Spear Bro's Tree Services. We'll be glad to provide you with a free, no-obligation tree care estimate.
Frequently Asked Questions
This is at your discretion. However, we don't require you to be on site. Our professionals have all the information about the tasks, which will enable our field crew to execute the work efficiently.
Absolutely! We're bonded and insured, so you can trust us to provide excellent services that meet your needs.
We can't provide an exact cost because every project is different concerning size and complexity. However, one thing is for sure — we offer competitive pricing for every job. Whether it's an emergency tree service in Torrington, CT, tree removal in Hartford, CT, stump grinding, or Kent tree removal services, Spear Bro's Tree Service guarantees competitive pricing!
CT Tree Services Made Easy
5 Star Emergency Tree Service CT
1495 Wolcott Road, Wolcott, CT, 06716
Free estimates available throughout our Connecticut service area. Tree Removal, Wood Chipping, And More!